96 Well Semi-Skirted PCR Plate, Roche Style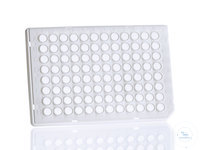 Die Abbildung kann abweichen und Zubehör enthalten, das sich nicht im Lieferumfang dieses Artikels befindet.
Bestell-Nr.: 0955
Preis: Login
Haben Sie Fragen ? Rufen Sie 0043 (01) 244 28 55 oder senden Sie ein mail !
Low profile, 0.1 ml  wells, white polypropylene, cut corner H12, designed for use on Roche LightCycler® 480

Designed for and tested on Roche blocks; a white polypropylene plate with low profile 0.15 ml wells, and a cut corner at H12
This Roche Style plate is designed to achieve optimised assay conditions on the Roche LightCycler® 480.
This particular style of plate is in a low profile 96-well format; perfect for reaction volumes of 10-100 µl. The wells are shorter than "standard" profile wells, which decrease the "dead space" between the heated lid of the thermal cycler and the sample in the well. This eliminates condensation forming on the side wall of the tubes, preventing reduction in PCR volume and increasing the efficiency of the reaction. This is especially recommended for reaction volumes below 20 µl.
Optimised for use with the Roche LightCycler® 480
Recommended for low volume PCR
Ultra-smooth, uniform, thin-walled polypropylene tubes for optimum PCR and real-time (RT, qPCR) results
Maximum thermal conductivity for efficient heat transfer and precise thermal cycling
Compatible with standard multichannel pipettes
0.15 ml (150 µl) working volume, 0.2 ml (200 µl) max volume
Subject to a strict QC procedure which includes a visual check and leak testing of every tube
White wells give optimum signal-to-noise ratio when using fluorescent-based assays
Raised grid reference to aid well and sample identification
Available barcoded
Alternatively, our FrameStar® 2-component PCR plate range offers a plate with the same dimensions, but with the added benefits of a polycarbonate frame that eliminates plate distortion and warping during the PCR process, leading to less evaporation and sample loss.
Barcoding
This plate is available with linear Code 128-format barcodes to aid identification and traceability for your samples. To order your plates with barcodes, simply add /SBC to the end of the ordering code for Standard Single Barcoding, /DBC for Standard Double Barcoding, /TBC for Standard Triple Barcoding, or /QBC for Standard Quadruple Barcoding.
mehr
(-) Technische Daten:
Anzahl Probenpositionen:
96