Viral Extraction Kit, prefilled Auto Plates, CE IVD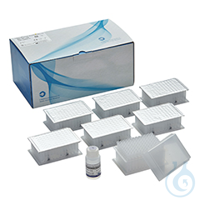 Die Abbildung kann abweichen und Zubehör enthalten, das sich nicht im Lieferumfang dieses Artikels befindet.
Bestell-Nr.: 301224
Preis: Login
Haben Sie Fragen ? Rufen Sie 0043 (01) 244 28 55 oder senden Sie ein mail !
TanBead Optipure Viral Auto Plate Isolation Kit W665A46 for Malstroem 96 CE, IVD

96 Tests/Kit

The advancement of infectious disease research is highly dependent on efficent DNA/RNA extraction for downstream applications such as genetic sequencing and PCR.
The TANBead Virus isolation kit provide an effective way to isolate viral DNA and viral RNA.

Purify viral DNA / RNa from serum or PBS suspension effectively.

TANBead Nucleic Acid Extraction Kit is suitable for extract nucleic acids of variuos viruses, such as hepatitis C virus, hepatitis B virus and influenza virus. 
Samples need to be treated with proteinase K prior to automated/semi-automated nucleic acid extraction process.
Nucleic acids extracted can be analyzed in downstream application, such as real-time PCR.
With high sensitivity, this reagent kit can be applied for clinical diagnostic and research.

 300 µl serum or PBS suspension
For RNA, HCV, Covid-19  Virus
Prefilled plate with 96samples/run
Proteinase K is included.
Processing time: 25 -70 min.

 
mehr
Notwendiger Zusatzartikel von:
088M160100E

Nucleic Acid Extractor Maelstrom 9610, CE IVD
Artikel-Nr:

301224

Packung:

96 Präparationen

Gültigkeit:

31.12.2022

Letztes Update:

04.01.2022
Alternative Artikel:
301209

Viral Extraction Kit, prefilled Auto tubes, CE IVD