Lab Armor Beads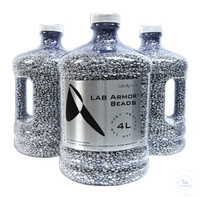 Die Abbildung kann abweichen und Zubehör enthalten, das sich nicht im Lieferumfang dieses Artikels befindet.
Bestell-Nr.: 42370004
Preis: Login
Haben Sie Fragen ? Rufen Sie 0043 (01) 244 28 55 oder senden Sie ein mail !
Update Your Water Baths and Ice Buckets with Beads
Lab Armor® Beads are small, dry, metallic thermal beads designed to replace water in laboratory water baths and ice in ice buckets.  
Type

Lab Armor Beads

Volume

0.75 Liters

2 Liters

4 Liters

8 Liters

Size & Weight

Diameter ~ 5 – 8Size & Weight :
 

Diameter  ~ 5 – 8 mm 
Hight ~ 1 – 2 mm 
Weight ~ 3.65 Ibs per liter

 

mm      |      Height ~ 1  2 |     

Properties

Metal composition
Moisture and gas impermeable
High thermal conductivity
Smooth, rounded surface
Working temperature range is -80°C to 180°C

Environment

Lab Armor Beads embody Lab Armor's continuing environmental progress. It is designed with the following features to reduce environmental impact:

Recyclable
Non-toxic, non-vaporizing material
No daily requirement for biocide use – no gray water
Improves energy efficiency of standard water baths by over 50%

 

In the Box

Lab Armor Beads
Printed Documentation
mehr
Zubehör von:
74220706HL

Lab Armor Bead Bath 6 L with High Cover