Expell cryo tube, 2.0mL, non-sterile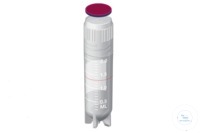 Die Abbildung kann abweichen und Zubehör enthalten, das sich nicht im Lieferumfang dieses Artikels befindet.
Bestell-Nr.: 5042001C
Preis: Login
Haben Sie Fragen ? Rufen Sie 0043 (01) 244 28 55 oder senden Sie ein mail !
Bulk

Case with 2x500 pcs (tubes) and 1x1000 pcs (caps)

Capp Expell cryotubes are designed with a focus on the best user experience and convenience.
Featured with single-handed QuickSealTM closure, the external thread design allows tightening or removal with only half a turn. Simultaneously, the Lip Seal Cap Design of Expell cryotubes, ensures 100% leak proof closure without the use of internal cap O-rings. Capp Expell cryogenic tubes have a unique streamlined design with absolutely no edges on the lid or between the lid and the tube.
This revolutionary streamlined design makes Capp Expell cryotubes, one of the only external thread cryo tubes that can be stored on cryo boxes with 10x10 dividers.
The majority of other external thread cryogenic tubes on the market are only suitable for storage on 9x9 boxes.
With Capp Expell cryotubes, you save up to 23% of your storage capacity compared to the conventional external thread cryo tubes.
On top of that, Capp Expell cryogenic tubes are also compatible with common working stations on the market.
Capp's unique portfolio of cryotubes covers 5 volumes: 0.5mL, 1.0mL, 2.0mL, 4.0mL and 5.0mL. With Capp Expell cryo tubes of 0.5mL you can efficiently store even the very small samples, as these are the smallest cryotubes available on the market.
Additionally, you can store approximately 30% more samples on your ULT (ultralow temperature) freezer when using the 0.5mL Expell cryotubes with the right match racks for storage on ULT and 32mm cryo boxes, compared to the use of conventional 2.0mL cryotubes and 50mm boxes.
Both the caps and the cryo tubes are made of specially formulated polypropylene, having the same coefficient of expansion and therefore enhancing the leak proof qualities at various temperatures.
Expell cryo tubes come packed in re-sealable stand-up pouches, saving benchtop space. They are suitable for storage in the vapor phase of liquid nitrogen.
mehr