Covid19 Confirm RT, EliGene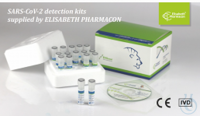 Die Abbildung kann abweichen und Zubehör enthalten, das sich nicht im Lieferumfang dieses Artikels befindet.
Bestell-Nr.: 90078RT
Preis: Login
Haben Sie Fragen ? Rufen Sie 0043 (01) 244 28 55 oder senden Sie ein mail !
EliGene® COVID19 CONFIRM RT kit  is intended for the detection or confirmation of SARSCoV-2 viral RNA from nasopharyngeal swabs, buccal swabs, sputum, saliva, serum, plasma and other clinical samples by one-step RT-qPCR assay.

The RT-qPCR for the detection of SARS-CoV-2 RNA utilizes TaqMan technology (FAM and HEX probes) and can be performed on instruments such as LightCycler® 480, LightCycler® Nano, MyGo, RotorGene® and others that can work in FAM and HEX channels.

CE mark.
WHO approved primers and probes.
Increased sensitivity and specificity due to the amplification of 3 independent SARS-CoV-2 targets in a single PCR reaction. Each kit, BASIC and CONFIRM aims for three completely different targets to ensure the best possible results.
HEX-labelled RNA-based internal control for the reverse transcription control.
Suitable for RNA isolated from all types of clinical samples.
Special technology developed in EU by Elisabeth Pharmacon company.
Compatible with all Elisabeth Pharmacon viral isolation kits.
100 or 500 analyses per kit.
mehr
Artikel-Nr:

90078-RT

Packung:

100 Stück

Gültigkeit:

31.12.2023

Letztes Update:

04.04.2023
Alternative Artikel: