MyTaq One-Step RT-PCR Kit, 25 Reactions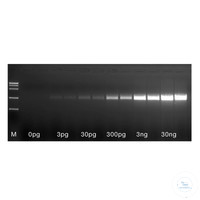 Die Abbildung kann abweichen und Zubehör enthalten, das sich nicht im Lieferumfang dieses Artikels befindet.
Bestell-Nr.: BIO65048
Preis: Login
Haben Sie Fragen ? Rufen Sie 0043 (01) 244 28 55 oder senden Sie ein mail !
An all-in-one-tube mix that delivers ultra-sensitive, highly-specific amplification of a broad range of RNA targets.
Product Highlights
Sensitive – incorporates a blend of high-affinity RT and novel MyTaq HS DNA Polymerase, enabling amplification of low copy number targets from ≥3 pg total RNA
Efficient – novel one-step buffer system maximizes the efficiency of both the reverse transcription and PCR steps, delivering improved yield of any target
Robust – RT tolerates the higher reaction temperatures required to overcome secondary structure, giving reliable detection of even challenging and GC-rich targets
Specific – MyTaq HS DNA Polymerase is an antibody-mediated hot-start enzyme that remains completely inactive during PCR set-up to prevent non-specific amplification
Flexible – utilizes gene-specific primers for full-length reverse transcription and subsequent PCR amplification of any RNA target
Convenient – an all-in-one-tube mastermix that improves the speed, convenience and accuracy of RT-PCR
Product Description
MyTaq™ One-Step RT-PCR Kit has been designed for extremely sensitive and highly reproducible first-stand cDNA synthesis and subsequent PCR in a single tube. The kit contains the latest advances in buffer chemistry, including Bioline ultra-pure dNTPs, together with a proprietary reverse transcriptase and MyTaq HS DNA Polymerase which is our next generation of very high performance, antibody-mediated hot-start DNA polymerase. This ensures that MyTaq One- Step RT-PCR Kit produces fast, highly-specific and ultra-sensitive products for downstream applications.
MyTaq One-Step Kit consists of reverse transcriptase, 2x MyTaq HS Mix and the potent RNase Inhibitor RiboSafe, that are blended to create a simple to use all-in-one mix. The kit is ideal for determining the presence or absence of RNA templates and quantifying expression through qualitative, semi-quantitative or quantitative analysis of RNA transcription levels, and the one-step format is also perfect for the synthesis of double stranded cDNA products for subsequent gene expression analysis. The cDNA can be synthesized with starting amounts of RNA template from 3 pg to 1 μg, over a broad temperature range, and up to 50°C to overcome secondary structure and GC-rich sequences), prior to heating to 95°C to inactivate reverse transcriptase and simultaneously to activate the MyTaq HS.
mehr
Artikel-Nr:

BIO-65048

Packung:

1 Stück

Gültigkeit:

31.12.2022

Letztes Update:

04.01.2022