Chemi Imager G Box Mini 9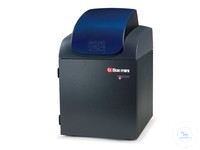 Die Abbildung kann abweichen und Zubehör enthalten, das sich nicht im Lieferumfang dieses Artikels befindet.
Bestell-Nr.: GBOxmini9
Preis: Login
Haben Sie Fragen ? Rufen Sie 0043 (01) 244 28 55 oder senden Sie ein mail !
G BOX mini 9 is a c
ompact, multi-application imaging system for accurately imaging fluorescence and visible gels, multiplexed fluorescence westerns, stain-free gels and chemiluminescent blots.
Fully integrated with single click computer controlled intuitive GeneSys software, you'll get great results every time.
G BOX mini
features the option to use not just
white LEDs but multi-colour, blue, green, red and infra-red high intensity LEDs which are up to 200 times brighter than standard LEDs
, giving you faster captures and brilliant multiplex fluorescence images.
Combining a unique motor driven stage and cooled high resolution 6 or 9 megapixel camera means your G:BOX mini can generate true-to-life, accurate optical images, not just digitally enhanced ones. With a G:BOX mini you'll see separate close chemi and fluorescent bands or spots even on complex gels and know they're really part of your data.
With our guarantee of free software upgrades not just today but throughout your system's life, your G:BOX mini will always have the latest imaging capabilities as new techniques come into the working lab.
Why buy this product ?
Luxury lens
Great images start with a great lens and this F/0.95 motor driven lens with data feedback and automated focus is the best. Using GeneSys software, the G:BOX mini easily controls lens aperture size, focus and zoom to get the results you want to see.
High resolution cameras
Choose between a 6 or 9 megapixel resolution camera. These work hard over a range of wavelengths to ensure you'll separate those close fluorescent bands and spots even on 2D gels.
Super low cooling
Superior Peltier cooling of the camera lets you increase exposure times to detect your faint chemiluminescence without adding annoying background noise.
Filter choice
A 7 position motor driven filter wheel controlled by GeneSys software allows you to add the filter for the fluorescent stain you like to work with. Since imaging ethidium bromide and SYBR(R) stained DNA gels are common, we've even included a UV filter to get you started.
Real imaging stage
When you're working with smaller and low light emitting gels and blots, an automatic motor driven stage with automated focus is brilliant because it lets you get your samples closer to the camera, generating true to life optical images and not just digitally enhanced copies.
Total control
Easily integrating a G:BOX mini to your choice of PC and printer gives you greater flexibility than using an integrated tablet, allowing you to run the GeneSys touch screen controls on a large screen, store a huge number of images and rapidly print low resolution all the way up to publication 
quality pictures.
G BOX mini mount option
The G BOX mini systems are now available with a cleverly-designed screen mount option. This sits neatly on top and lets you safely secure the screen to control the system or view gel and blot images. The mount does not come with a screen/monitor.  
Detection with a difference
SYSTEM
G:BOX mini 6
G:BOX mini 9
Image resolution (megapixels)
6
9
Effective resolution (megapixels)
18
27
A/D
16 bit
16 bit
Greyscale
65,536
65,536
Quantum efficiency (@425nm)
73%
73%
Lens (motor driven)
F0.95
F0.95
Motor driven stage
True optical imaging
True optical imaging
Filter wheel (7 position motor driven)
Yes
Yes
UV filter
Yes
Yes
Use with external PC and printer (not included)
Yes
Yes
LIGHTING
 
 
Epi LED white lights
Yes
Yes
HI-LED (red, blue, green)
Optional
Optional
HI-LED (red, infrared)
Optional
Optional
HI-LED (red, blue, green, infrared)
Optional
Optional
Visible light converter
Optional
Optional
Blue converter screen
Optional
Optional
Slim slide-out UV transilluminator (20cm x 20cm)
Optional - 254, 302, 365nm wavelengths
Optional - 254, 302, 365nm wavelengths
UltraSlim Blue LED transilluminator
Gel size (cm)

Optional

10 x 12

Optional
10 x 12
DIMENSIONS
 
 
Max image area (cm)
15 x 12
15 x 12
Min image area (cm)
10 x 8
10 x 8
W x H x D (cm)
40 x 64 x 52
40 x 64 x 52
Weight (kg)
40
40
Power input (V)
100-240
100-240
White light
To position your samples, see visibly stained blots and colored markers on Westerns, the G:BOX mini comes with overhead environmentally friendly, long-life white LED EPI lighting.
 
HI-LED EPI lighting options
When you want to image multiplex fluorescent gels and blots, the G:BOX mini can be configured with the option of HI-LED RGB, RIR or RGBRIR. HI-LEDs are up to 200 times brighter than standard LEDs, giving you faster exposure times and great images in just one click, making the G:BOX mini an unrivalled, cost-effective alternative to laser-based technology. Using these high powered HI-LEDs fitted with special narrow band pass filters allows you to accurately image multiplexed blots/gels with minimal 'cross-talk' between dyes.
 
UV transilluminator option
If you simply need to see ethidium bromide stained DNA gels and stain-free protein gels then opt for the slide in and out, easy access 302nm UV transilluminator. 254nm and 365nm wavelengths are also available.
 
Visible transmitted light options
For viewing Coomassie Blue, silver stain and other visible stained gels, a conversion screen which you can place over the UV transilluminator to produce a large, evenly illuminated white light is available.
 
Blue light conversion screen
For viewing 'safer' fluorescent dyes such as SYBR Safe, you can choose to illuminate with the optional blue conversion screen which sits over the UV transilluminator producing trans blue illumination at 465nm.
 
Blue light transilluminator option
For visualising many fluorescent dyes including ethidium bromide and the safe dyes without using UV, you can choose the 470nm UltraSlim Blue LED transilluminator.
mehr