POLARIC™ Labeling series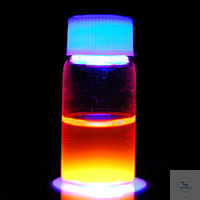 Die Abbildung kann abweichen und Zubehör enthalten, das sich nicht im Lieferumfang dieses Artikels befindet.
Bestell-Nr.: GC2021
Preis: Login
Haben Sie Fragen ? Rufen Sie 0043 (01) 244 28 55 oder senden Sie ein mail !
POLARIC™ labeling series are optimized for labeling use. These inhibit less target molecule because of low molecular weight.
POLARIC™ labeling series change emission spectra between 520~650nm dynamically in each environment by a single excitation around 500nm.
We offer variety of reactive forms for target molecule or method, and can prepare and design your demand such as addition of water solubility, control of distance to target molecule.
mehr
Artikel-Nr:

GC2021

Packung:

1 Milligramm

Gültigkeit:

31.12.2020

Letztes Update:

07.01.2020