Chemi Imager GeneGnomeXRQ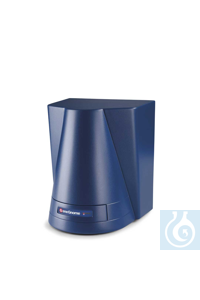 Die Abbildung kann abweichen und Zubehör enthalten, das sich nicht im Lieferumfang dieses Artikels befindet.
Bestell-Nr.: GeneGnomeXRQ
Preis: Login
Haben Sie Fragen ? Rufen Sie 0043 (01) 244 28 55 oder senden Sie ein mail !
GeneGnome XRQ is dedicated to chemiluminescence imaging. A simple set-up process means a single 'click' will automatically capture a quality image of any western blot.
Category: Chemiluminescence systems
Applications: Chemiluminescence
Dedicated chemiluminescence imaging system – great Westerns without film
You love the sensitivity that chemi brings to Western blot imaging but hate the drama of using film to get it. Utilising the GeneGnome XRQ's optimised short 'camera to sample' technology, you'll get more than double the dynamic range of film, making it easy for you to see picogram or femtogram protein levels without all the fuss.
The GeneGnomeXRQ is dedicated to chemiluminescence imaging and is built for high performance and automation, featuring a high quantum efficiency CCD camera.
The compact instrument sits on any laboratory bench taking up very little space. The GeneGnome XRQ requires an external PC for use.
The system is controlled by GeneSys application driven image capture software and comes complete with unlimited copies of GeneTools analysis software.
Dedicated chemi imaging system
Small footprint
More space for your research
High quantum efficiency (QE) camera
Detects your faintest bands
Automated chemiluminescent capture
Perfect exposure without film
Cooled camera
No annoying background noise on your blots
Fixed lens controlled by GeneSys software
 One click and you'll image any manufacturer's chemi reagents
GeneSys application driven image capture software
Contains extensive database of dyes and imaging protocols. All you need to know is the type of blot you're using and GeneSys automatically selects the optimal lighting and filters to produce the perfect image
GeneTools analysis software (unlimited copies)
 Analyse data on your own computer
Optimised – for imaging chemiluminescence Western blots
 GeneGnome XRQ is configured for maximum sensitivity to ensure even the faintest band on a blot can be captured.
Sensitive cooled camera
 The high quantum efficiency cooled CCD camera is very sensitive to low level light emissions from a blot. The peltier cooled camera has exceptional 'signal to noise' performance resulting in virtually undetectable background noise. The short 'camera to sample' distance further enhances the ability to work with chemiluminescence samples and reagents. When compared to film, the GeneGnome XRQ has more than double the dynamic range. This allows for extremely accurate quantification.
Small footprint
 The GeneGnome XRQ has a very small footprint and takes up minimal bench space. The automatic slide-out drawer allows easy sample handling. The fixed aperture and focus of the lens results in a very simple set-up procedure making image capture as simple as a click of a mouse button.
Specification
| | |
| --- | --- |
|   | GeneGnome XRQ |
| Image resolution (pixels m) | 4 |
| Effective resolution (pixels m) | 16 |
| A/D | 16 bit |
| Greyscales | 65536 |
| Quantum efficiency @ 425nm | 73% |
| Cooling | Peltier |
| Lens (motor driven) | Fixed f0.95 |
| Sample size (cm) | 11 x 8 |
| Requires external PC | Yes |
| Epi LED white lights | Yes |
| W x H x D (cm) | 37.5 x 44 x 43 |
mehr