RWD CO2 Incubator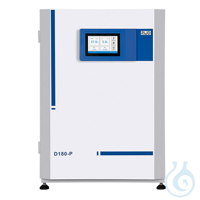 Die Abbildung kann abweichen und Zubehör enthalten, das sich nicht im Lieferumfang dieses Artikels befindet.
Bestell-Nr.: D180P
Preis: Login
Haben Sie Fragen ? Rufen Sie 0043 (01) 244 28 55 oder senden Sie ein mail !
Used to grow and maintain microbiological cultures or cell cultures which is essential for a lot of experimental work to culture eukaryotic cells.
The combination of six-side air jacket heating technology with accurate temperature, CO2 concentration control system make it more reliable.
The 140℃ decontamination program could keep the environment inside cleaner.

Sensitive Heat-Resistant IR Sensor to Monitor Co2 Concentration
Six-side air Jacket Heating System Ensures Fast Heating.
High Efficient Sterilization by 140℃ Dry Heat
In-Chamber HEPA combined with active fan system, made inner chamber's cleanliness up to Class 100
7-inch Intelligent Touchscreen Controller for real-time curve display
Automatic Data Record for 6 months and Curve Display for 7 days.
Alarm system for Over-time, Low Concentration, Abnormal operation.

TEMPERATURE
Control & Range: ±0.1℃, 5°C above ambient to 50°C
Heating Method: Air jacket
Uniformity: ±0.3℃ @ 37℃
Alarm Setting: ±5°C
Sensor: Platinum thermistor
Controller: PID
Readability & Setability: 0.1℃
Sterilization Method:140℃ dry heat sterilization

CO2 CONCENTRATION
Control & Range: Better than ±0.1% ; 0-20%
Sensor: Heat-resistant infrared (IR) sensor
Inlet Pressure: 1.0 bar (recommended)
Uniformity: ±0.3%
Readability & Setability: 0.10%
Alarm Setting: ±1%

HUMIDITY
Humidity Pan Volume: ~3.8 L
Display: 1% RH

SHELVES
Dimensions: 47.0×47.0 cm
Surface Area (Standard & Max): 214. 6 cm2 ; 220.7 cm2
Number (Standard & Max): 3 ; 16

SIZE & WEIGHT
Interior Volume: 175 L
Interior Dimensions: 51.0 (W) ×54.7 (D) ×67.5 (H) cm
Exterior Dimensions: 66.0 (W) ×67.0 (D) ×97.0 (H) cm
Net Weigh: 110 kg (242.5 lbs)
mehr
Artikel-Nr:

D180-P

Schlagworte:

CO2 Brutschrank

Packung:

1 Stück

Gültigkeit:

31.12.2023

Letztes Update:

04.04.2023