MELING -86°C Ultra Low Temperature Large Volume Freezer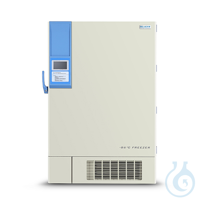 Die Abbildung kann abweichen und Zubehör enthalten, das sich nicht im Lieferumfang dieses Artikels befindet.
Bestell-Nr.: DWHL1008S
Preis: Login
Haben Sie Fragen ? Rufen Sie 0043 (01) 244 28 55 oder senden Sie ein mail !
•Fast refrigeration and targeted refrigeration
•Five magic weapons for energy saving
•The world's largest capacity for high-efficient storage freezer
•VIP plus vacuum insulation thermal plate
•Low-noise and environmentally friendly design
•7" inch LED touch screen controller with blue-ray background light, ensuring easy use and control

Powerful Refrigeration System
You are allowed to set the temperature in the range of -40°C~-86°C in the cabinet freely and in perfect temperature uniformity. 
The CFC-FREE mixture refrigerant technology enables the deep freezer in high performance and environmental protection.

VIP Plus Vacuum Thermal Insulation
The upright deep freezer adopts high-efficiency VIP vacuum thermal insulation plate in the six sides of the cabinet.
It has 2 independent insulation foaming doors with double seal, which can ensure the temperature uniformity in the range of -40°C~-86°C in the cabinet of the ultra low deep freezer.

Safety System
This ultra low temperature freezer comes with secure audible and visible alarm system, including high temperature alarm, low temperature alarm, filter blocking alarm, power failure alarm, door ajar alarm, low battery level alarm, and system failure alarm. 
It features start-up delay and power off protection to ensure reliable operation.

Human-oriented Structure Design
The external material is made of high quality structure steel, and the inner material is made of 304 grade stainless steel, which is easy to clean. 
The 3 high strength shelves are made of SS304, which is resistant to corrosion and keep your low temperature storage materials safe. 
The door handle is designed in new-type assisting and pressure reducing valve, which can be opened and closed easily with one hand.

Dimensions
Capacity(L): 1008
Internal Size(W*D*H)mm: 1022*696*1378
External Size(W*D*H)mm: 1362*1025*2002
Package Size(W*D*H)mm: 1473*1155*2176
NW/GW(Kgs): 430/500

Features
CFC-FREE mixture refrigerant ensure fast refrigeration and environmental friendly.
Adopted famous Secop compressor and Germany brand EBM fans.
D-form copper tube evaporator for better heating dissipation.
7"inches LED touch screen control system has clear display and allows more accurate temperature control.
Equipped with VIP plus vacuum insulation foaming inside the door for better temperature performance.
2-layers of solid doors with 2 independent inner doors to protect your lab and medical materials in proper temperature.
SPCC steel with powder coating external material and 304 grade stainless steel inner material, exquisite beauty and easy to clean.
Optimized storage space design to accommodate up to inventory 2"box in 770 pieces and inventory 2ml vial in 77000 pieces.
PT-100 platinum resistance sensors which is very sensitive to the temperature changing.
Lockable door and keyboard lock with password to prevent unauthorized operating and access.
Fitted with 4 PCS casters & level feet for easy moving.
Enable machine startup delay, power off protection, and 72 hours battery backup for controller display.
Designed with USB datalogger to record relevant temperature data, which can be downloaded and checked.
Optional temperature recorder, CO2 back-up system, and low voltage surge protector.
Certificate: CE certificate, ISO9001, ISO14001, ISO13485.
mehr
Artikel-Nr:

DW-HL1008S

Gültigkeit:

31.12.2021

Letztes Update:

31.03.2021
Alternative Artikel:
220379

Mobile ultra-low Temperature Freezer

DWHL778S

MELING Ultra Low Temp Freezer -86°C DW-HL778S

DWHL858S

MELING -86°C Ultra Low Temperature Medical und Laboratory Freezer