MELING Ultra Low Temp Freezer -86°C DW-HL778HC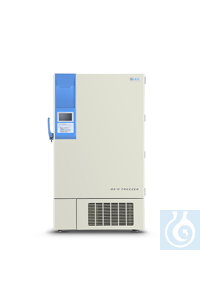 Die Abbildung kann abweichen und Zubehör enthalten, das sich nicht im Lieferumfang dieses Artikels befindet.
Bestell-Nr.: DWHL778HC
Preis: Login
Haben Sie Fragen ? Rufen Sie 0043 (01) 244 28 55 oder senden Sie ein mail !
•Fast refrigeration with optimized refrigeration system
•High-efficiency compressor and EBM fan
•VIP plus vacuum thermal insulation panel
•High-precision microcomputer control system
•Human-oriented structure design
Meling -40°C~-86°C ultra low temperature freezer DW-HL778s
is a laboratory deep freezer as well as medical freezer. The ultra deep freezer is equipped with new generation refrigeration system, ensuring fast refrigeration. The high-precision microcomputer control system and platinum resistor sensors enable you to set the temperature inside the cabinet in the range of -10°C~-86°C freely. This deep freezer enables three-dimensional thermal insulation. And the six sides of the cabinet are made from high-efficiency VIP Plus vacuum insulation panel, which can improve the thermal insulation performance of the refrigerator. This upright deep freezer is suitable for applying in hospitals, blood bank, health and disease prevention systems, colleges and universities, research institutions, biological engineering, and more.
Powerful Refrigeration System
-40°C~-86°C ultra low temperature freezer DW-HL678s provides you with new generation refrigeration system ensuring fast refrigeration. And it can well keep the temperature in the cabinet in the range of -40°C~-86°C. The CFC-FREE mixture refrigerant ensures well performance of the temperature and environmental friendly.
VIP Plus Vacuum Thermal Insulation
The deep freezer is designed with high-efficiency VIP vacuum thermal insulation plate in the six sides of the cabinet. The two-layer insulation foaming door with double seal can greatly improve the thermal insulation performance and ensure temperature uniformity in the cabinet of the ultra low temperature freezer.
Reliable Security System
This ultra low temperature freezer has audible and visible alarm system, including high temperature alarm, low temperature alarm, power failure alarm, sensor failure alarm, low battery level alarm, door open alarm, system failure alarm, etc. And it features turn-on delay and stopping interval protection to ensure reliable operation.
Human-oriented Structure Design
The new-type assisting door handle is designed with pressure reducing valve, which can be opened and closed easily. The 304 stainless steel liner is low-temperature tolerant and corrosion-resistant, which can ensure a long service life. And it has universal caster and fixed foot for easily moving and fixing.
Dimensions
Capacity(L): 778
Internal Size(W*D*H)mm: 865*696*1286
External Size(W*D*H)mm: 1205*1025*1955
Package Size(W*D*H)mm: 1320*1155*2171
NW/GW(Kgs): 365/408
Features
Ultra low freezer temperature range -40~-86℃
CFC-FREE mixture refrigerant ensure fast refrigeration and environmental friendly.
Adopted famous SECOP compCressor and Germany brand EBM fans.
7"inches LED screen control system has clear display and allows more accurate temperature control.
Equipped with VIP plus vacuum insulation foaming inside the door for better temperature performance.
High quality structure steel external material and 304 grade stainless steel inner material, exquisite beauty and easy to clean.
2-layers of solid doors with 2 independent inner doors to protect your lab and medical materials in proper temperature.
Allow storage of inventory 2"box in 600 pieces and inventory 2ml vial in 60000 pieces.
Lockable door and keyboard lock with password to prevent unauthorized operating and access.
Fitted with 4 PCS casters & level feet for easy moving the ultra low temperature freezer.
Enable machine startup delay, power off protection, and 72 hours battery backup for controller display.
Designed with USB datalogger to record relevant temperature data, which can be downloaded and checked.
Optional temperature recorder, warning lamp, smart temperature monitor system and CO2 back-up system.
Certificate: CE certificate, ISO9001, ISO14001,ISO13485.
mehr
(-) Technische Daten:
Bauart:
Schrank
Nennvolumen:
778 l
Kleinste Betriebstemperatur:
-86 °C
Größte Betriebstemperatur:
-40 °C
Zubehör:
Optionen:
Option von:
Artikel-Nr:

DW-HL778HC

Schlagworte:

Tiefkühltruhe, Tiefkühlschrank

Gültigkeit:

31.12.2023

Letztes Update:

04.04.2023
Alternative Artikel:
220379

Mobile ultra-low Temperature Freezer