EXTRACTME PLASMID MIDI KIT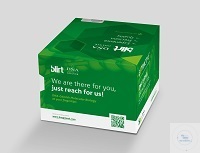 Die Abbildung kann abweichen und Zubehör enthalten, das sich nicht im Lieferumfang dieses Artikels befindet.
Bestell-Nr.: EM16025
Preis: Login
Haben Sie Fragen ? Rufen Sie 0043 (01) 244 28 55 oder senden Sie ein mail !
The EXTRACTME PLASMID MIDI kit is designed for the efficient purification of high quality plasmid DNA from 50-300 ml of cultured recombinant Eschcerichia coli cells. The kit is based on modified anion-exchange resin, allowing extraction of ultrapure, transfection-grade pDNA, which is highly suited for use in demanding applications.
 
SAMPLE MATERIAL
Bacterial broth culture:
- 50-150 ml (high-copy number plasmids)
- 100-300 ml (medium- and low-copy number plasmids)
YIELD
200-600 μg of transfection-grade pDNA from 100 ml of cultured bacterial cells
TIME REQUIRED
- 70 min
- additional ~60 min for DNA precipitation
DNA PURITY
A260/A280 ratio = 1.7 - 1.9
 
Principle
The plasmid DNA purification procedure utilizes pre-packed anion-exchange resin columns which efficiently and selectively bind nucleic acids. In the first isolation step, the pDNA is released from bacterial cells by alkaline lysis. Then the lysate is neutralized and all the cell residues along with the proteins and genomic DNA are separated in the centrifugation step. This alkaline lysis method and RNase treatment are used to obtain clear cell lysate with minimal genomic DNA/RNA contaminants. In the next step the lysate is applied to the purification column with the equilibrated resin and the DNA is bound. The washing stage effectively removes impurities and enzyme inhibitors. A suitable buffer with a high ionic strength allows the elution of the plasmid DNA, which is then concentrated and desalted by precipitation. The purified plasmid DNA may be used directly in all downstream applications such as PCR, qPCR, transfection, microinjection, Southern blotting, DNA sequencing, enzymatic restriction and so forth, or stored until ready to use.
 
Quality control
The quality of each production batch (LOT) of the EXTRACTME PLASMID MIDI kit is tested using BLIRT's ISO-certified quality management system. The purified DNA concentration, quality and stability are evaluated by gel electrophoresis and spectrophotometry. In addition, the functional quality is tested by qPCR, digestion with restriction enzymes and pDNA transfection.
mehr
Artikel-Nr:

EM16-025

Packung:

25 Präparationen

Gültigkeit:

31.12.2020

Letztes Update:

07.01.2020