Mini-centrifuge / Vortex Combi-Spin FVL-2400N incl. Rotor R 1.5 & R 0.2/0.5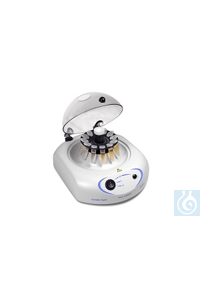 Die Abbildung kann abweichen und Zubehör enthalten, das sich nicht im Lieferumfang dieses Artikels befindet.
Bestell-Nr.: FVL2400N
Preis: Login
Haben Sie Fragen ? Rufen Sie 0043 (01) 244 28 55 oder senden Sie ein mail !
Description
Mini-centrifuge/vortex Combi–Spin FVL-2400N is specially designed for genetic engineering research (for PCR–diagnostics experiments). Units can be used in microbiological, biochemical, clinical laboratories and industrial biotechnological laboratories.
Combi–Spin provides simultaneous mixing and separation of samples, using centrifuge and mixing modules, located on the common spin–module.
FVL-2400N is provided with protection mechanism that stops the rotor motion when the lid is opened.
Specification
Continuous and impulse operation modes:+
Safety: Stop at open lid
Overall dimensions (W×D×H): 190x235x125 mm
Weight: 1.7 kg
Nominal operating voltage: 120 or 230 V; 50 Hz
Rotation speed (fixed): 2800 rpm
Max. RCF: 500 x g
Power consumption (230V / 120 V): 30 W (0.13 A) / 30 W (0.27 A)
Nominal operating voltage: 120 or 230 V; 60 Hz
Rotation speed (fixed): 3500 rpm
Max. RCF: 700 x g
Power consumption (230V / 120 V): 25 W (0.1 A) / 30 W (0.27 A)
Optional Accessories
BS-010205-CK
Rotor R-2/0.5
BS-010205-DK
Rotor R-2/0.5/0.2
BS-010202-BK
IQ OQ document
mehr
Artikel-Nr:

FVL2400N

Schlagworte:

Mikrozentrifuge

Packung:

1 Stück

Gültigkeit:

31.12.2020

Letztes Update:

07.01.2020
Alternative Artikel: