VITRO FLU-COVID RT-PCR One Step RT PCR Kit, CE,IVD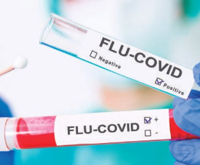 Die Abbildung kann abweichen und Zubehör enthalten, das sich nicht im Lieferumfang dieses Artikels befindet.
Artikelverweis:
Bestell-Nr.: MAD003942ML
Preis: Login
Haben Sie Fragen ? Rufen Sie 0043 (01) 244 28 55 oder senden Sie ein mail !
100 Reactions
Kit for the detection of Influenza A (FluA), Influenza B ( FluB) and SARS-CoV-2 viruses by One-Step REal-Time RT-PCR

The FLU-COVID RT-PCR kit is an in vitro diagnostics kit for the qualitative simultaneous detection and differentiation of the RNA of the Influenza A1 (FluA), Influenza B1 (FluB) and/or SARS-CoV-2 viruses, starting from purified RNA from human clinical samples of different origin, such as nasopharyngeal and oropharyngeal exudates and bronchoalveolar lavages (BAL). It is based on the multiplex One-Step RT-PCR technique, using primers and fluorescent probes for the target genes: Matrix protein FluA (Mp), Matrix protein FluB and SARS-CoV-2 specific N gene (CDC N2 region) following the guidelines recommended by the WHO (11).

Types of influenza virus identified:
• Influenza A
o Universal
o Subtype H1N1 (pandemic 2009)
o Subtype H3
• Influenza B: Victoria and Yamagata lineages.

Specific primers and fluorescent probe are included for the simultaneous detection of the human RNaseP gene as internal quality control of the starting material and amplification. The detection channels of the different targets are:

Target Fluorophore
SARS-CoV-2
FAM
Influenza A
ROX
Influenza B
JOE
RNasaP
Cy5

Table 1. Detection channels for the different targets of the FLU-COVID RT-PCR kit.

Microbiological status: Non-sterile product.



 
mehr
Artikel-Nr:

MAD-003942M-L

Packung:

1 Kit

Gültigkeit:

31.12.2023

Letztes Update:

04.04.2023