MultiSUB Midi 96 STRETCH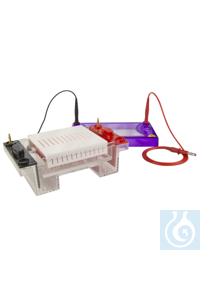 Die Abbildung kann abweichen und Zubehör enthalten, das sich nicht im Lieferumfang dieses Artikels befindet.
Bestell-Nr.: MSMIDI96ST2M
Preis: Login
Haben Sie Fragen ? Rufen Sie 0043 (01) 244 28 55 oder senden Sie ein mail !
Including:
UV Tray, Comb block with 12x8 sample, 1mm thick combs, casting dams. Combs have two marker lanes.
Key Features
96-well comb block and specialised tray replicates the format and well-spacing of microplates and thermal cycler blocks. Offset well configuration and short separation distance (1.8cm) allow samples to be run within 15-30 minutes. Ideal for analysis of up to 96 PCR-fragment length polymorphisms.
Designed for loading of DNA samples from multi-well plates
Ideal for high throughput electrophoresis
Average run-time is just 15 to 30 minutes
Direct microplate format for easy lane identification
Multichannel pipette compatible combs for speed loading
Stretch versions available with extended 3.6cm separation distance to double capacity
Description
The MultiSUB Midi 96 Gel System is ideal for high throughput electrophoresis of PCR products or samples containing a small number of DNA bands. Its 10x12cm (W x L) gel dimensions and 96-well comb block format correspond to the standard microplate configuration. Two different types of comb are available; one with 8 wells and one additional lane for DNA markers, and one with 8 wells and 2 additional lanes for markers. The offset layout of the wells allows a maximum run length of 1.8cm per well, resulting in improved separation.
The MultiSUB Midi 96 can accommodate samples from a 96-well plate and samples can be loaded directly using 8-channel pipettes. As with all MultiSUB units, the leak-proof casting is simplified using the supplied casting dams, while their ultra-compact size minimises buffer usage and bench space requirements.
MSMIDI96ST Stretch Systems are also available for those users requiring an extended run length per well of up to 3.6cm, or for loading of samples from two 96-well plates – MSMIDI96STDBL.
Technical Specifications
Gel dimensions (w x l)
MSMIDI96 - 10 x 12cm, MSMIDI96ST - 10 x 24cm
Unit dimensions (w x l x h)
MSMIDI96 - 12.5 x 22 x 9cm, MSMIDI96ST - 12.5 x 46.5 x 8cm
Max. sample capacity
96 samples plus 1 or 2 marker lanes
Buffer volume
MSMIDI96 - 300ml, MSMIDI96ST - 700ml  
Combs available
No. of samples
8 + 1x Marker, 8 + 2x Markers
Accessories:
MS Midi, 96 Well UV Tray / MS10-UV96
MS Midi STRETCH, 96 Well UV Tray / MS10-UV96ST
MSMIDI 96 Comb 8 sample MC + 1 Marker, 1mm thick COMB BLOCK / MSMIDI96-8-1-CB
MSMIDI 96 Comb 8 sample MC + 1 Marker, 1.5mm thick COMB BLOCK / MSMIDI96-8-1.5-CB
MSMIDI 96 Comb 8 sample MC + 2 Marker, 1mm thick COMB BLOCK / MSMIDI96-8-1/2M-CB
MSMIDI 96 Comb 8 sample MC + 2 Marker, 1.5mm thick COMB BLOCK / MSMIDI96-8-1.5/2M-CB
MSMIDI 96 STRETCH Comb 8 sample MC + 1 Marker, 1mm thick COMB BLOCK / MSMIDI96ST-8-1-CB
MSMIDI 96 STRETCH Comb 8 sample MC + 1 Marker, 1.5mm thick COMB BLOCK / MSMIDI96ST-8-1.5-CB
MSMIDI 96 STRETCH Comb 8 sample MC + 2 Marker, 1mm thick COMB BLOCK / MSMIDI96ST-8-1/2M-CB
MSMIDI 96 STRETCH Comb 8 sample MC + 2 Marker, 1.5mm thick COMB BLOCK / MSMIDI96ST-8-1.5/2M-CB
MSMIDI 96 Comb 8 sample MC, 1mm thick. one marker lane. / MSMIDI96-8-1
MSMIDI 96 Comb 8 sample MC, 1.5mm thick. one marker lane. / MSMIDI96-8-1.5
MSMIDI 96 Comb 8 sample MC, 1mm thick. two marker lanes. / MSMIDI96-8-1/2M
MSMIDI 96 Comb 8 sample MC, 1.5mm thick. two marker lanes. / MSMIDI96-8-1.5/2M
mehr
Artikel-Nr:

MSMIDI96ST/2M

Packung:

1 Stück

Gültigkeit:

31.12.2021

Letztes Update:

30.12.2020