PCR Cycler Real Time, SLAN 96P, 2x48 ,4 Channel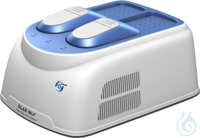 Die Abbildung kann abweichen und Zubehör enthalten, das sich nicht im Lieferumfang dieses Artikels befindet.
Artikelverweis:
Bestell-Nr.: SLAN96P
Preis: Login
Haben Sie Fragen ? Rufen Sie 0043 (01) 244 28 55 oder senden Sie ein mail !
Specifications of the system
SAMPLE CAPACITY
96wells(dual 48/48 reaction module)
CONSUMABLE
0.2ml PCR tubes,8-tube strips,48-well plates
PARALLEL RUNNING MODE
Dual reaction blocks(running 2 tests independently)
TEMPERTURE ACCURACY
+/-0.1℃
TEMPERTURE UNIFORMITY
+/-0.1℃
THERMAL CYCLING SYSTEM
Peltier-based system
TEMPERATURE CONTROL MODE
Tube control/Block control
LIGHT SOURCE
LED(maintenance-free)
DETECTOR
High sensitivity photoelectric sensor
CORRELATION COEFFICIENT
-0.999 to -1.000
100~1010
 
RESOLUTION
Can discriminate between 500 copies and 1000 copies
CH1 470nm    CH2 530nm    CH3 580nm
CH4 630nm    CH5/CH6 custom-made
CH1 510nm    CH2 565nm    CH3 620nm
CH4 665nm    CH5/CH6 custom-made
Absolute Quantification(AQ) ,Positive/Negative,Allelic Discrimination(TaqMan®endpoint method ),Melting Curve analysis(FRET),Relative Quantification(RQ) /Gene expression analysis,High Resolution Melting Curve analysis,Isothermal Amplification
 
HOT-LID
30~106℃(default 105℃,adjustable),electronic automatic hot-lid
COMPUTER REQUIREMENT
1GB RAM,CPU1.5GHz
DIMENSIONS
38cm×52cm×25cm(W×D×H)
OPERATION SYSTEM
Windows XP,Windows Vista,Windows7
*The choice of custom -made channels regards actual stock level of suppliers as principle.
Features of SLAN®-96P
● Innovative dual 48/48 reaction blocks-increased efficiency and flexibility
SLAN-96P's dual 48/48 reaction blocks are controlled separately,like two independent instrument.With SLAN-96P,two different assays can be tested simultaneously on a single instrument or a new assay can be started while another is running.
● Patented precise-temperature-control technology:well-to-well uniformity with an accuracy of +/-0.1℃
Benefit from its patented advanced temperature spot-to-spot compensation technology,The SLAN-96P's temperature uniformity across 96 wells is to within a remarkable +/-0.1℃.This superior uniformity meets all your needs for highly precise studies,especially for High-Resolution Melting Curve(HRM) application.
● Advanced fluorescence detection system-reliable,sensitive and calibration-free
The unique side-capture signal collection technology enhances fluorescence capture efficiency and eliminates signal noise,offering better detection sensitivity and smooth amplification curves;
The improved optical system decreases instrument background ensuring better reproducibility;
Long-lasting high-intensity LEDs which are reliable and maintenance-free;
Negligible optical background resulting in no background calibration being required;
Innovative optical light-path design eliminating edge effect and giving uniform fluorescence intensity for each tube,No ROX reference calibration is required;
Instrument hardware calculates gain automatically during running.No gain setting is required;
Professional optical filter combinations eliminate crosstalk between FAM,HEX,ROX,and CY5 channels.NO crosstalk calibration needed.
● Much faster-generates accurate results in less than 50 minutes
Basded upon the original SLAN system,the latest SLAN-96P has improved upon its thermal design with a super-fast heating/cooling rate of up to 4.5℃/S.
● Professional multiplex detection channels-true 6plex real-time PCR
SLAN-96P's 6 sets of excitation and emission filter combinations ensure 6-color multiplexing real-time reading capacity;you will enjoy a high flexibility in the choice of fluorescence dyes and detection format.
● Ideal approach to your HRM study-accurate,sensitive,no need for complicated temperature shift calibration
Fast fluorescence detection mode completes gene scanning in 30mins;
Advanced hardware design and software algorithms generate and precise date without the need for temperature shift calibration.
● Outstanding performance-reduces experimental error
Correlation coefficient: -0.999~ -1.000
Sensitivity:detection of one starting template copy
High resolution:easily discriminates between 500 and 1000 copies
Reproducibility:CV<0.5%
Broad dynamic range:100~1010 copies
● Powerful yet easy to use multitasking software-excellent tools for high-quality data analysis
A broad range of analysis applications:Quantification/Qualification,Allelic Discrimination,Melting Curve analysis,Relative Quantification,HRM,Isothermal Amplification;
Unique protocol manager,a flexible and powerful tool for the management of assay protocols ;
Unique rule function for easy result interpretation;
Simple import and export functions enable integration with LIMS;
● Support and service-we are committed to provide a better solution!
18 month guarantee;
Rapid customer and instrument support service;
Highly stable and durable;high performance at an affordable price;
Low noise,low power consumption,robust,compact and elegant;
Open platform:supports all universal PCR reagents ans plastics.
*The choice of custom -made channels regards actual stock level of suppliers as principle.
mehr
Artikel-Nr:

SLAN96P

Gültigkeit:

31.12.2022

Letztes Update:

04.01.2022
Alternative Artikel: