Proteinase K, MB Grade, Lyophilized powder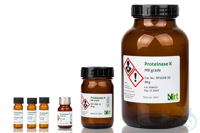 Die Abbildung kann abweichen und Zubehör enthalten, das sich nicht im Lieferumfang dieses Artikels befindet.
Bestell-Nr.: RP100B
Preis: Login
Haben Sie Fragen ? Rufen Sie 0043 (01) 244 28 55 oder senden Sie ein mail !
Proteinase K Molecular Biology Grade from Parengyodontium album (Tritirachium album) is a subtilisin-related serine protease. 
It is a broad spectrum endopeptidase with a very high specific activity. 
Proteinase K Molecular Biology Grade is active under a wide range of reaction conditions, including elevated temperatures and presence of SDS. 
As a result, this enzyme is widely using for digestion of proteins, including DNases and RNases, during nucleic acid preparations without compromising the integrity of isolated DNA or RNA. 
Proteinase K Molecular Biology Grade is free of exonucleases, endonucleases, and ribonucleases.

Features
Recombinant broad-spectrum non-specific protease derived from Tritirachium album and over-expressed in Pichia pastoris.
High activity and exceptional purity .
Active at high temperatures (up to 56°C) and denaturing conditions (e.g. in the presence of urea and/or SDS), what makes it ideal for digesting proteins in variety of applications.
Stable over a wide pH range: 4.0–12.5 (optimum pH 7.5–8.0).
Decreased amount of host DNA (≤ 10 pg/mg / MBG or ≤ 0.1 pg/mg NGS).
Available as powder, lyophilized "cake" or liquid.

Applications:
Extraction of DNA and RNA from different starting materials.
Purification of target material from contaminating proteins.
Removal of DNases and RNases during nucleic acids isolation.

Units:
One unit of Proteinase K hydrolyzes urea-denaturated hemoglobin producing color equivalent of 1 μmol tyrosine per 1 min at 37°C and pH 7.5 (Folin & Ciocalteu's method), 1 U = 1 mAnsonU.
mehr