HUMAN PLACENTA Collagen-I, freece dried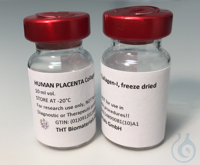 Die Abbildung kann abweichen und Zubehör enthalten, das sich nicht im Lieferumfang dieses Artikels befindet.
Artikelverweis:
THT0201

HUMAN PLACENTA Laminin-111, liquid (0.5 mg/mL)

THT0301

HUMAN PLACENTA Substrate, liquid (1.5 mg/mL)
Bestell-Nr.: THT0102
Preis: Login
Haben Sie Fragen ? Rufen Sie 0043 (01) 244 28 55 oder senden Sie ein mail !
4, 10 or 20 mg vials

HUMAN PLACENTA Collagen-I (COL1), freeze
dried

Comprising highly purified human atelocollagen
type 1 in 20 mM HCl, prepared from placenta
tissue of individuals that have been shown by
certified tests to be negative for antibodies to HIV,
HEP-B and THPA (syphilis).

Catalog number THT0102

Product description

Pepsin-solubilized atelocollagen allows growth
and cultivation of many cell types. COL1 is derived
from human origin and freeze dried (> 95% purity
by SDS-PAGE).
mehr
Artikel-Nr:

THT0102

Gültigkeit:

31.12.2021

Letztes Update:

30.12.2020