CappAero Multichannel pipette 16-channel, 0.2-2 ul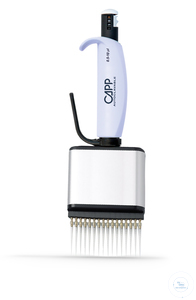 Die Abbildung kann abweichen und Zubehör enthalten, das sich nicht im Lieferumfang dieses Artikels befindet.
Bestell-Nr.: C0216
Preis: Login
Haben Sie Fragen ? Rufen Sie 0043 (01) 244 28 55 oder senden Sie ein mail !
CappAero384 is the ideal multichannel pipette for 384 well plate. Our portfolio starts with the 16 channel pipette, available in 3 volume ranges: 0.2-2µl, 0.5-10µl and 5-50µl and goes further to 48 and 64 channel pipettes, enabling quick and high precision pipetting of 16, 48, or 64 wells at once without the use of expensive, automated equipment. CappAero multichannel pipette for 384 well plate is a perfect tool for liquid transfers from reservoir and deep well plates into 384 well plates, reducing the throughput time and workload. Capp multichannel pipette for 384 well plate offers significant advantages in PCR, micro array, and MALDI spectrometry techniques, featuring lightweight ergonomic construction and enabling consistent and reliable liquid transfer.
Tips compatible with Capp 384 well plate multichannel pipettes.
For the best performance of your Capp multichannel pipette for 384 well plate and to ensure that the warranty is fully covered, Capp recommends you to use ExpellPlus pipette tips, which are specifically designed to perfectly fit Capp 16, 48 and 64 channel pipettes. Due to special polymers and an extremely smooth inside surface, the ExpellPlus tips virtually eliminate sample retention, and reduce the binding of DNA, RNA, and Proteins to a minimum. The range also includes a filter tip version to effectively prevent cross contamination caused by aerosol formation (such as DNA), and dangers from toxic, infectious, radioactive or other hazardous materials.     
The ordering information for ExpellPlus tips suitable for Capp 16, 48 and 64 channel pipettes:
5030005C ExpellPlus 0.2-50ul, long, racked, sterile (5x10x384)
5030006C ExpellPlus 0.2-50ul, long, racked, sterile, filtered (5x10x384)     
mehr
Artikel-Nr:

C02-16

Schlagworte:

Kolbenhubpipetten, Digitalpipetten

Packung:

1 Stück

Gültigkeit:

31.12.2023

Letztes Update:

04.04.2023